Hampton Hills, High River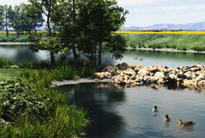 Ideally located at the first point of entry into High River, you'll find the Hamptons filled with lush, natural green space. A 14 acre pond, 17 acre nature park, and 8.8km of pathways integrated into the "Happy Trails" system ensure you'll always feel at home in your own community, yet connected to the small town atmosphere.
Click Here To Read More.